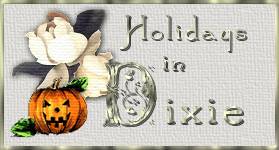 Newsletter
Number 1
October 10, 2000
Holidays in Dixie has started slowly with us
just getting organized and having to move our
webring from webring.org, (now webring/yahoo) to
Ringsurf. I think everyone made the move however
so now we need to be inviting other southern websites
who have holiday sections to join us. There is an
invitation graphic for you to use on the website, you
may leave it in a person's guestbook or simply write
and invite them to join Holidays in Dixie if you know
the site to be someone living in the south now or who was
born and raised here. The site does not have to have a
"Dixie" theme, though some mention of the fact that they
are southern would be nice. This ring is not for women
only, but men as well who have nice holiday sites and are
southern. It is not a sister ring to any other, but stands
alone. We have 23 sites in the ring, a greater number would
be an advantage to all of us.

You will find graphics at our website beginning with this url:
http://members.tripod.com/~dixieholidays/
This is the main website, and the graphics including the
invitation for guestbooks are here, linked from this page.

I believe an award for each holiday represented among our
sites will be in order, and that is what I am attempting to do
now. With the ring this small, I can check them all (for now) to
view the holidays you have on 'your' site. Everyone did not have
a Halloween site, but we did have several and my advisor and
myself have chosen three award winners. The following have been
sent today:
1st Place Halloween Award - Southland Holidays
2nd Place Halloween Award - Great Pumpkin
3rd Place Halloween Award - Our Halloween Pages
Click the "titles" for a quick link to these
award winning pages. Please go by these winners
sites and congratulate them as well as enjoy the
"treats" on all three. Congratulations!!!
Halloween Award Sample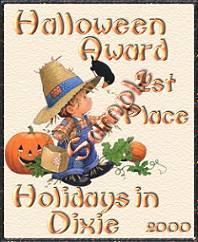 Our next award will be for Thanksgiving,
and unless we experience sudden,extreme growth,
I will be able to view all the sites for your
Thanksgiving pages. I will try my best to present
that award by November 1st or shortly thereafter.
Christmas and New Years will be next and
coming soon, so get to working on those pages
and perhaps you will be listed among our next
winners. Good luck to all who wish to compete.
I am not asking you to register for competition
as stated above, with just 23 members, I can view
all the sites at this point. When we are a larger
ring, I will have to ask you to submit your sites
for competition at that point.
See you in November!!!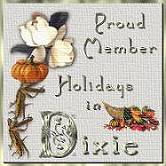 HDID Proud Member
for Thanksgiving sites.