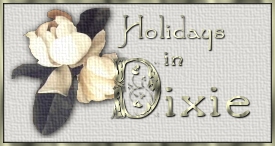 Below are some alternative logos
for those who choose to join by individual
holiday rather than having a holiday index.
If you join with your Christmas page, for example,
you may use the regular logo (seen above)
or the one seen below, with the poinsettia added.
That is all I have done to Sweet & Co.
graphic. I have added a symbol for each holiday
commonly seen celebrated with a website.
I will make any others that are needed as
time goes by. The last two logos at the bottom,
were designed for Memorial Day and July 4th, but
could used be for either. The decision is yours.
You choose your logo. Remember, if you use an
alternate logo, to change the name of the
image in your fragment.
These graphics created by Aquarius.
Background & Magnolia tube by Sweet & Co.
Some tubes by Cheryl Boswell.
All rights reserved.
Webring created June 20, 2000
Powered by counter.bloke.com